Add an external link to the navigation menu
In this tutorial we will see how to add an external link to the WordPress navigation menu and how to automatically open it in a new tab.
Login to your WordPress website and from the admin Dashboard, go to Appearance / Menus.
Select the menu where you want to add an external link from the 'Select a menu to edit' dropdown and click 'Select'.
Under 'Add menu items, click 'Custom Links' and enter the URL you want to add and a name then click 'Add to Menu'.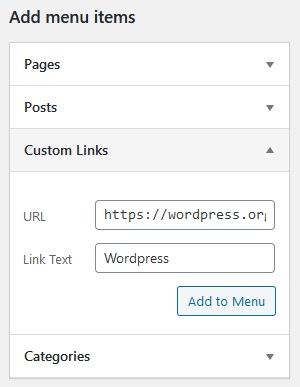 The link will now appear in the navigation menu. Here I dragged the newly created custom link under the 'Links' menu.
Thi is how it looks on the website.
In order to open the link directly in a new page, we need to configure an option. Back on the admin dashboard, click 'Screen Options' on the top right corner of the page.
Different options will appear, select 'Link Target'.
A new option will appear in the custom link we added earlier to the navigation menu. Check the box 'Open link in a new tab' and click 'Save Menu'. This action will add the target="_blank" attribute to the link.
You're done! The link will automatically open in a new tab each time you or anyone clicks on it.